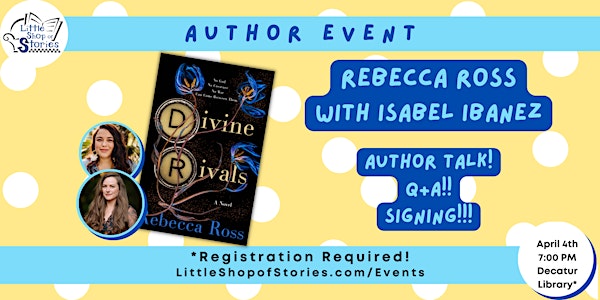 Her new book may be called Divine Rivals, but we're pretty sure Rebecca Ross is our Divine Soulmate!! Are we coming on too strong? MAYBE, but we don't care because Rebecca is coming to back to Decatur along with fellow amazing author Isabel Ibañez to hang out with little old us and tell us all about her newest YA book that's absolutely going to steal your heart (and maybe also the heartfelt letters that you've hidden under your wardrobe)! This is sure to be a night of hope, heartbreak, warring gods, enemies, lovers, and (as always) wonderful books, so see below for more deets!
Tickets:
Admission: $0 That's right, admission is free, but you still need to "purchase" a ticket for every person in your group!
You must purchase a book from Little Shop of Stories in order to enter the signing line.
If you cannot attend the event, but would still like a signed book, please order below.
Venue:
Decatur Library Auditorium
The easiest way to reach the auditorium is through the double doors on the lower level of the parking garage connected to the building.
About the book:
After centuries of sleep, the gods are warring again. But eighteen-year-old Iris Winnow just wants to hold her family together. Her mother is suffering from addiction and her brother is missing from the front lines. Her best bet is to win the columnist promotion at the Oath Gazette.
To combat her worries, Iris writes letters to her brother and slips them beneath her wardrobe door, where they vanish—into the hands of Roman Kitt, her cold and handsome rival at the paper. When he anonymously writes Iris back, the two of them forge a connection that will follow Iris all the way to the front lines of battle: for her brother, the fate of mankind, and love.
About the author and moderator:
Rebecca Ross was born and raised in Georgia, where she continues to reside with her husband, her lively Australian Shepherd, and her endless piles of books. She loves coffee, the night sky, chalk art, maps, the mountains, and growing wildflowers in her yard. And a good story, of course. She is the author of The Queen's Rising, The Queen's Resistance, Sisters of Sword and Song, Dreams Lie Beneath, and A River Enchanted.
Isabel Ibañez is the author of Together We Burn (Wednesday Books), and Woven in Moonlight (Page Street), a finalist for the William C. Morris Award, and is listed among Time Magazine's 100 Best Fantasy Books Of All Time. She is the proud daughter of Bolivian immigrants and has a profound appreciation for history and traveling. She currently lives in Asheville, North Carolina, with her husband, their adorable dog, and a serious collection of books. Say hi on social media at @IsabelWriter09.
Event date:
Tuesday, April 4, 2023 - 7:00pm
Event address:
Decatur-DeKalb County Public Library
215 Sycamore Street

$18.99

ISBN: 9781250857439
Availability: On Our Shelves Now
Published: Wednesday Books - April 4th, 2023
When two young rival journalists find love through a magical connection, they must face the depths of hell, in a war among gods, to seal their fate forever.

---