Submitted by
dave_12
on Fri, 10/01/2021 - 11:52am
Hear Our Story:The Testimonies of Children Detained at the Southern Border of the United States by Warren Binford and Michael Garcia Bochenek is one of the most important and powerful picture books of the year. In June of 2019, a team of attorneys visited a detention center in southwestern Texas where more than 350 children (all separated from their parents) were being kept after their attempts to cross our country's border. The team discovered children- infants to teens- living in squalor, practically on top of one another, with none of their basic needs or rights as human beings met, all neglected and cruelly treated by those charged with caring for them. Warren Binford, a member of that team and an international children's advocate and co-founder of Project Amplify, an organization that "allows the voices of the children to be heard", interviewed many of the children there and gathered their stories in this heartbreaking picture book. Written from each child's sworn testimony and in their exact words and illustrated by some of the most talented illustrators in children's books, this book is frightening and necessary. If you are an adult, you should read it. If you are an adult with children or who works with children, you should read it and then share it with those children. Great conversations can come from great picture books. If we want our children to do a better job than we have done, these conversations- however difficult and scary- must happen.
We are proud to partner with INDIES UNITE!, a consortium of independent bookstores working to elevate the conversation around issues pertinent to children and teens through book based programming, to co-host an event with Warren Binford and Michael Bochenek, in a conversation moderated by Little Shop's very own Christina Scott, who when not at the shop, is busy advocating for children and their families through her law practice. Buying this book benefits Project Amplify, an organization that supports children in migration, and includes a link to the exclusive virtual event with the authors on October 16th at 4PM.
There are two ways to purchase a copy and receive the link to the event:
Purchase here and in the comments section of your order, let us know you'd like to receive the link to this event.
Purchase on Little Shop's Bookshop page to receive this link
Thanks to Bookshop.org for helping to organize and host this event!
Event date:
Saturday, October 16, 2021 -

4:00pm

to

5:00pm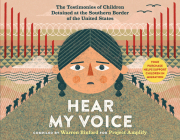 $19.95

ISBN: 9781523513482
Availability: On Our Shelves Now
Published: Workman Publishing Company - April 13th, 2021
The moving stories of children in migration—in their own words.

"In Spanish and in English, a devastating first-person account of children's experiences in detention at the southern U.S. border....
---