Click here to purchase tickets!
44th & 3rd Bookseller and Little Shop of Stories, in partnership with Agnes Scott College, are thrilled to announce an event with Dr. Ibram X. Kendi, historian, antiracist scholar, and author of many books including Stamped from the Beginning and Antiracist Baby. This event will be held at Agnes Scott College's Presser Hall on Saturday, June 18th at 7 p.m. Dr. Kendi will be discussing his work and sharing his new picture book, Goodnight Racism, illustrated by Cbabi Bayoc. Dr. Kendi's other new book, How to Raise an Antiracist, will be available for purchase as well.
Dr. Kendi Will be in conversation with author and activist Kimberly Jones.
You can read more about Ms. Jones here.
This is a family-friendly event; adults, children, and teens are welcome and encouraged to attend!
A limited number of copies of Dr. Kendi's other books, including Antiracist Baby, How to be an Antiracist, Stamped (with Jason Reynolds), Four Hundred Souls, and Stamped from the Beginning will be available for sale.
Ticket Options:
Event Entry + Presigned Copy of Goodnight Racism - $25.50
Event Entry + Presigned Copies of Goodnight Racism AND How to Raise an Antiracist - $55.75
Companion Ticket for child or teen under the age of 18 (available with the purchase of an Event Entry ticket) - $5
Please carefully read the information below before purchasing tickets:
Covid Policy:
All guests must adhere to Agnes Scott's COVID-19 policies, including for masks, in effect at the time.
Guests should be fully vaccinated and, if eligible, up-to-date with the COVID-19 boosters. Guests must provide proof of vaccinations.
Guests who have exemptions or are otherwise unvaccinated or not boosted must provide a negative COVID-19 test result taken within 72 hours before the event.
Masks are optional for fully vaccinated attendees, but required at all times for exempted or unvaccinated individuals. KN95 or N95 masks are strongly recommended.
Event date:
Saturday, June 18, 2022 - 7:00pm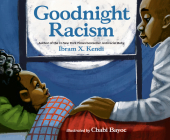 $18.99

ISBN: 9780593110515
Availability: On Our Shelves Now
Published: Kokila - June 14th, 2022
National Book Award–winning and New York Times bestselling author Ibram X. Kendi (How to Be an Antiracist, Antiracist Baby) returns with a new picture book that serves as a modern bedtime classic.

---

$28.00

ISBN: 9780593242537
Availability: On Our Shelves Now
Published: One World - June 14th, 2022
NEW YORK TIMES BESTSELLER • The book that every parent, caregiver, and teacher needs to raise the next generation of antiracist thinkers, from the author of How to Be an Antiracist and recipient of the MacArthur "Genius" Grant.

---