Dracula: Slip-Cased Edition (Hardcover)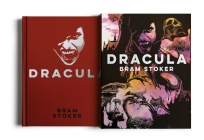 $29.24
Please contact us about availability of this title
Description
---
The last I saw of Count Dracula was his kissing his hand to me, with a red light of triumph in his eyes, and with a smile that Judas in hell might be proud of.
Dracula
is a preeminent work of horror literature, containing one of the best gothic villains of all time. When Jonathan Harker stays with Count Dracula in his crumbling Transylvanian castle, he is greatly unsettled by the man. After enduring a series of bizarre events, Harker realizes he is being imprisoned by the Count and barely escapes with his life. Meanwhile, a similarly curious set of circumstances are happening in England: A huge wolf-like creature is seen to leap from the deck of a Russian ship with a mysteriously absent crew; a young woman develops a strange wasting disease and red marks on her throat; a patient at the lunatic asylum experiences increasingly strange delusions. A small band of heroes set to investigate these worrying events, led by Doctor Van Helsing who consults ancient texts to discover the chilling enormity of what they face... Brought to you here in this handsome slipcased edition including wonderful pen and ink illustrations and foil-stamped lettering, Bram Stoker's
Dracula
can be treasured in all its gothic glory.
ABOUT THE SERIES:
Arcturus Slipcased Classics are beautiful foil-stamped gift editions of classic works of literature, presented in a slipcase and decorated with delightful illustrations.