The Blue House Dog (Paperback)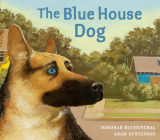 $8.99

Usually Ships in 1-5 Days
Description
---
A boy without a dog and a dog without an owner find each other in this powerfully moving story of loneliness and redemption.

Day after day, Cody watches Bones roam the streets. No one else thinks the old stray is special, but Cody does. He knows the dog is alone now. He watched them tear down the blue house where Bones used to live with an old man. Cody knows how it feels to lose someone too. Slowly—cautiously—Cody opens his home and his heart to the scruffy dog with one blue eye and one brown.

Inspired by the true story reported in the New York Times about a homeless dog in a suburban New York neighborhood, Deborah Blumenthal tells an affecting story of coming to terms with loss and learning to love again.

Adam Gustavson's full-color illustrations highlight the emerging relationship between a lonely boy and the dispirited dog who captures his attention, and finally, his heart.
About the Author
---
Deborah Blumenthal is an award-winning journalist and author of children's books and young adult and adult novels. She has been a regular contributor to the New York Times and her stories have appeared in many other newspapers and national magazines including New York's Daily News, the Washington Post, the Los Angeles Times, Bazaar, Cosmopolitan, Woman's Day, Family Circle, Self, and Vogue. She lives in New York.

Adam Gustavson holds an MFA from the School of Visual Arts and a BFA from Rowan University and has taught at Seton Hall University and Philadelphia's University of the Arts. He is the award-winning illustrator of over thirty books for children. He lives, paints, teaches, and plays music in his home state of New Jersey, along with his charming family and a neurotic poodle.
Praise For…
---
"Perceptive art and emotive, free verse-style text work well together. . . The redemptive power of friendship is beautifully shown. . . "—Booklist

"Sensitively constructed oil paintings communicate the anxious fear of the stray dog as well as the boy's earnest attempts to help. . . dog lovers will enjoy the story of this helpful boy and his newfound canine companion."—Kirkus Reviews

"Lyrical prose and Gustavson's lush paintings have the impact of a documentary film. . . emotions are raw and authentic, while the way in which they're delivered is elegant-a potent combination."—Publishers Weekly

"This gentle story may help pet owners following a loss and also illuminates the caring qualities that lead to trust, healing, and friendship."—School Library Journal